A good night's sleep is vital for our well-being. The comfort of our bed often dictates the quality of our sleep, and the bed sheets we use play a significant role in creating a comforting sleep environment. When it comes to bed sheets, the market is brimming with a plethora of options, varying in materials, thread counts, and designs. Each type of bed sheet material has unique properties that cater to different preferences and needs.
In the pursuit of a restful sleep, understanding the different types of bed sheet materials becomes crucial. The choice between cotton, linen, microfiber, silk, bamboo, or blended fabrics can significantly impact both the comfort and the longevity of your bed sheets. Moreover, for individuals with specific skin sensitivities or allergies, selecting the right bed sheet material is even more critical.
This comprehensive guide aims to unfold the various types of bed sheet materials available in the market, delving into their characteristics, benefits, and what to consider when making a purchase. From the classic cotton and luxurious silk to the eco-friendly bamboo and the affordable microfiber, we will explore the spectrum of bed sheet materials to equip you with the knowledge needed to make an informed decision for a comforting sleep experience.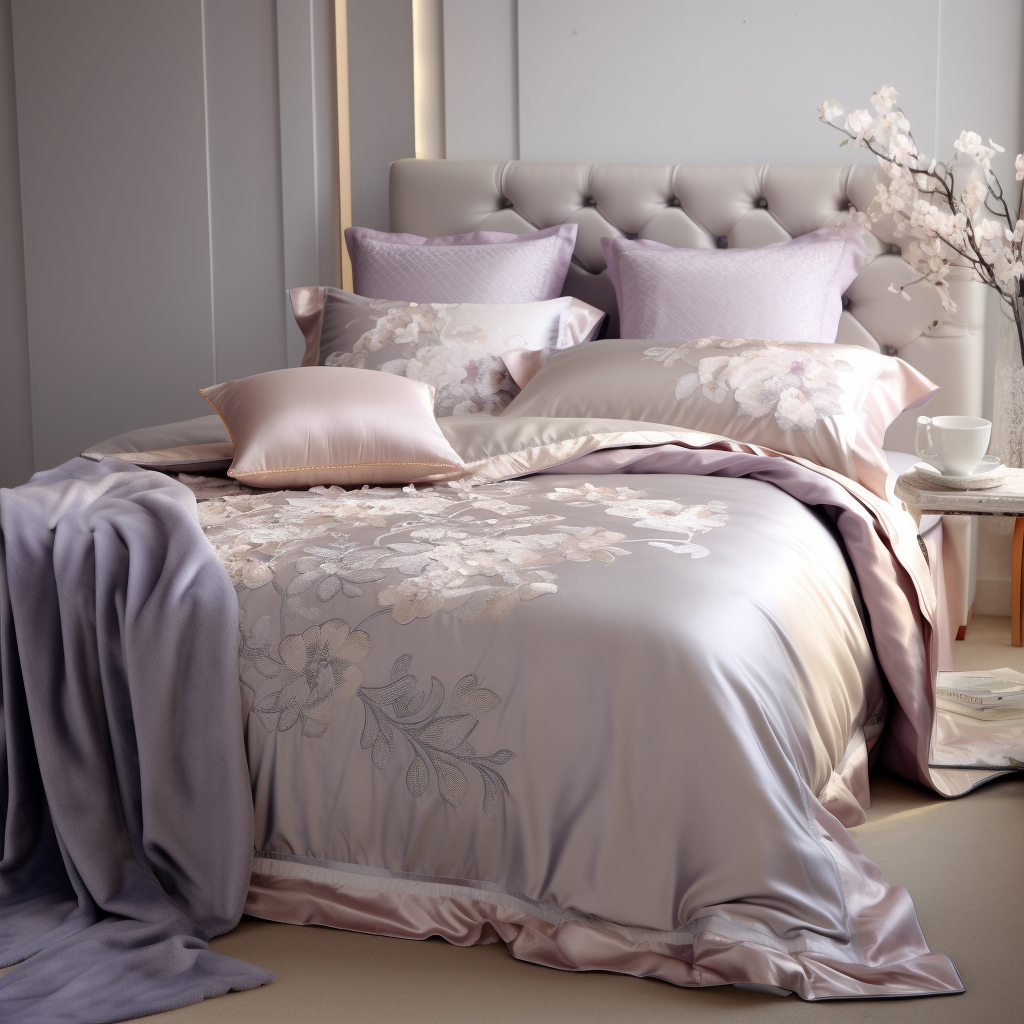 Cotton Bed Sheets
a. Varieties and Their Benefits
Cotton, a timeless choice for bed sheets, is known for its breathability, durability, and easy maintenance. Its natural fibers wick moisture away from the skin, providing a cool, dry sleeping environment, especially during warm nights.
Egyptian Cotton: Renowned for its luxurious softness and durability, Egyptian cotton boasts longer fibers, which translate to higher thread counts and a smoother finish. This variety is ideal for those seeking a lavish feel combined with longevity.
Pima Cotton (Supima): Pima cotton, often branded as Supima, stands out for its extra-long staple fibers, ensuring a soft texture and excellent durability. It's a great choice for those who appreciate a soft touch yet want a durable fabric.
Organic Cotton: For the eco-conscious, organic cotton serves as a responsible choice. Grown without the use of synthetic pesticides, it's gentler on the environment and your skin.
Upland Cotton: The most common type of cotton, Upland, has shorter fibers. While not as soft or durable as Egyptian or Pima, it's a budget-friendly option.
b. What to Look For When Buying
When on the hunt for the perfect cotton bed sheet, consider the following aspects to ensure a satisfying purchase:
Thread Count: A higher thread count usually denotes a softer and more durable sheet, though anything beyond 400 to 600 thread count may not offer noticeable differences.
Weave: The weave affects the feel and the look of the sheets. Percale is a tight weave that delivers a crisp feel, while sateen offers a smoother, more luxurious touch.
Finish: Some cotton sheets are treated to resist wrinkles, while others retain a natural, rustic look. Your preference between a sleek or a more casual appearance will guide this choice.
Certifications: Look for certifications like OEKO-TEX or GOTS to ensure the sheets are free from harmful substances and are ethically produced.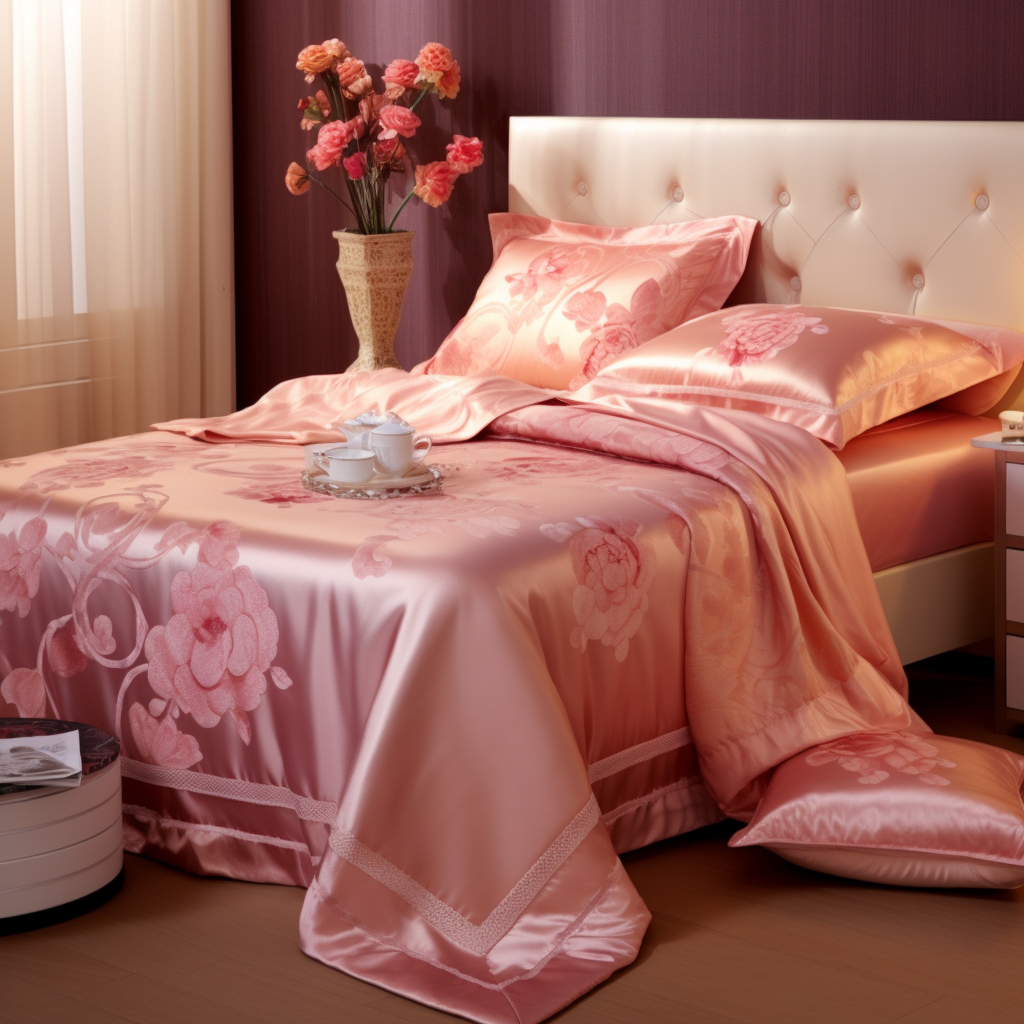 Linen Bed Sheets
a. Unique Characteristics and Advantages
Linen, a classic yet luxurious fabric, has been cherished for centuries for its unique blend of beauty and practicality. Made from the flax plant, linen sheets are exceptionally breathable, making them a perfect choice for warm climates. Here are some notable characteristics:
Temperature Regulation: Linen's breathability and high moisture-wicking properties help regulate body temperature, keeping you cool in summer and warm in winter.
Longevity: Linen sheets are known to get softer and more comfortable with each wash, without losing their durability. They're a long-term investment for your sleep sanctuary.
Eco-friendliness: Flax cultivation requires less water and pesticides compared to cotton, making linen a more eco-friendly choice.
Hypoallergenic Properties: Linen is naturally hypoallergenic and anti-bacterial, making it suitable for those with sensitive skin or allergies.
b. Shopping Tips
When shopping for linen bed sheets, considering the following points could steer you towards a satisfying purchase:
Fabric Weight: Expressed in GSM (grams per square meter), a higher GSM indicates a heavier fabric. For linen, a range of 160-190 GSM is common for bed sheets.
Origin: The quality of linen can vary depending on its origin. Belgian and French linen are often considered superior due to their rigorous quality control standards.
Certifications: Similar to cotton sheets, look for certifications like OEKO-TEX or GOTS to ensure the linen is free from harmful substances and ethically produced.
Softness: As linen can be a bit rough initially, some prefer pre-washed or stone-washed linen for extra softness from the start.
Microfiber Bed Sheets
a. Features and Benefits
Microfiber, a synthetic material made from finely woven polyester fibers, is a popular choice due to its affordability and a variety of beneficial features:
Softness: Microfiber sheets are known for their soft, smooth surface right from the start, providing a cozy feel against the skin.
Durability: The tight weave of microfiber makes these sheets resistant to tears and snags, ensuring a long-lasting use even with regular washing.
Wrinkle Resistance: Unlike natural fiber sheets, microfiber sheets tend to resist wrinkles, keeping a neat appearance with less effort.
Moisture-Wicking: Though not as breathable as cotton or linen, microfiber does have moisture-wicking properties that can help keep sleepers dry.
b. Points to Consider
When shopping for microfiber bed sheets, keeping the following tips in mind can guide you to a satisfying purchase:
Grams per Square Meter (GSM): Higher GSM microfiber sheets tend to be more durable and soft. A range of 90 to 110 GSM is common for good quality microfiber sheets.
Weave: The weave can affect the feel and appearance of the sheets. Brushed microfiber provides a softer feel, while a classic weave may offer a crisp look.
Hypoallergenic Properties: Microfiber's tight weave helps prevent allergens from penetrating the fabric, making it a good choice for allergy sufferers.
Care Instructions: Following the care instructions for microfiber sheets will help maintain their softness and prolong their lifespan.
Silk Bed Sheets
a. Luxurious Features
Silk, often deemed the epitome of luxury in bedding, offers a plethora of benefits alongside its luscious feel. Here are some of the luxurious features of silk bed sheets:
Smoothness: The smooth surface of silk sheets reduces friction, which can be beneficial for the skin and hair, helping to maintain moisture and reduce wrinkles and bedhead.
Temperature Regulation: Silk is a natural temperature regulator, keeping you warm during colder nights and cool during warmer nights, aiding in a comfortable sleep experience.
Hypoallergenic Properties: Silk is resistant to dust mites, mold, and mildew, making it a suitable choice for allergy sufferers.
Natural Protein Fibers: The protein fibers in silk can be gentle on the skin, which is particularly beneficial for those with sensitive skin.
b. Buying Guidelines
Investing in silk bed sheets requires careful consideration to ensure you reap the benefits:
Momme Count: Similar to thread count in cotton sheets, the momme count indicates the weight of the silk. A higher momme count (e.g., 19-25) usually denotes better quality and durability.
Silk Type: Mulberry silk is considered the highest quality due to its long, consistent fibers, whereas other types like Charmeuse silk offer a more affordable option with a glossy finish.
Certifications: Certifications like OEKO-TEX can provide assurance that the silk sheets are free from harmful substances.
Care: Silk sheets require gentle care including hand washing or using a delicate machine cycle, and avoiding exposure to direct sunlight to maintain their luxurious feel and longevity.
Bamboo Bed Sheets
a. Ecological Advantages
Bamboo, a swiftly renewable resource, has emerged as an eco-friendly material for bed sheets. The ecological advantages of bamboo bed sheets include:
Sustainable Growth: Bamboo is one of the fastest-growing plants on earth, requiring minimal water and no pesticides, making it a sustainable choice.
Biodegradability: Being a natural fiber, bamboo is biodegradable, reducing its environmental impact at the end of its life cycle.
Carbon Absorption: Bamboo plants are efficient in absorbing carbon dioxide and releasing oxygen, contributing to a cleaner environment.
b. Purchasing Recommendations
When considering bamboo bed sheets, the following points could guide you to a satisfying purchase:
Fabric Type: Bamboo sheets come in different fabric types like bamboo viscose, lyocell, and modal, each with unique properties. Bamboo viscose is soft and cool, while lyocell is more durable and moisture-wicking.
Certifications: Look for certifications like OEKO-TEX or USDA Organic to ensure the sheets are produced without harmful chemicals and are environmentally friendly.
Thread Count: While bamboo sheets are generally soft, a higher thread count can still indicate a more luxurious feel and durability.
Care Instructions: Bamboo sheets require gentle care. Washing in cold water on a gentle cycle and air drying can help maintain their softness and prolong their lifespan.
Blended Fabric Bed Sheets
a. Common Blends and Their Properties
Blended fabric sheets combine the benefits of different materials to create a balanced blend of features. Here are some common blends and their properties:
Cotton-Polyester: This blend aims to offer the softness and breathability of cotton with the durability and wrinkle resistance of polyester. It's a practical choice for those seeking a balance between comfort and ease of care.
Cotton-Linen: Combining the crispness of linen with the softness of cotton, this blend can provide a unique texture and improved wrinkle resistance compared to 100% linen sheets.
Bamboo-Cotton: By blending the softness and eco-friendliness of bamboo with the durability of cotton, these sheets offer a well-rounded option for comfort and sustainability.
Polyester-Microfiber: This blend can enhance the durability and softness of the sheets, providing a cost-effective choice with a smooth feel.
b. How to Choose
When considering blended fabric sheets, the following tips may guide you to a satisfying purchase:
Purpose: Understand your primary need – whether it's durability, softness, eco-friendliness, or ease of care – to choose a blend that aligns with your preferences.
Percentage of Blend: Look at the ratio of materials in the blend. A higher percentage of one material will lead to a more pronounced presence of its characteristics.
Weave and Finish: As with other sheets, the weave and finish can affect the feel and appearance, so consider whether you prefer a crisp or smooth texture.
Care Instructions: Blended sheets may have specific care instructions to maintain the benefits of both materials, so be sure to follow the guidelines provided.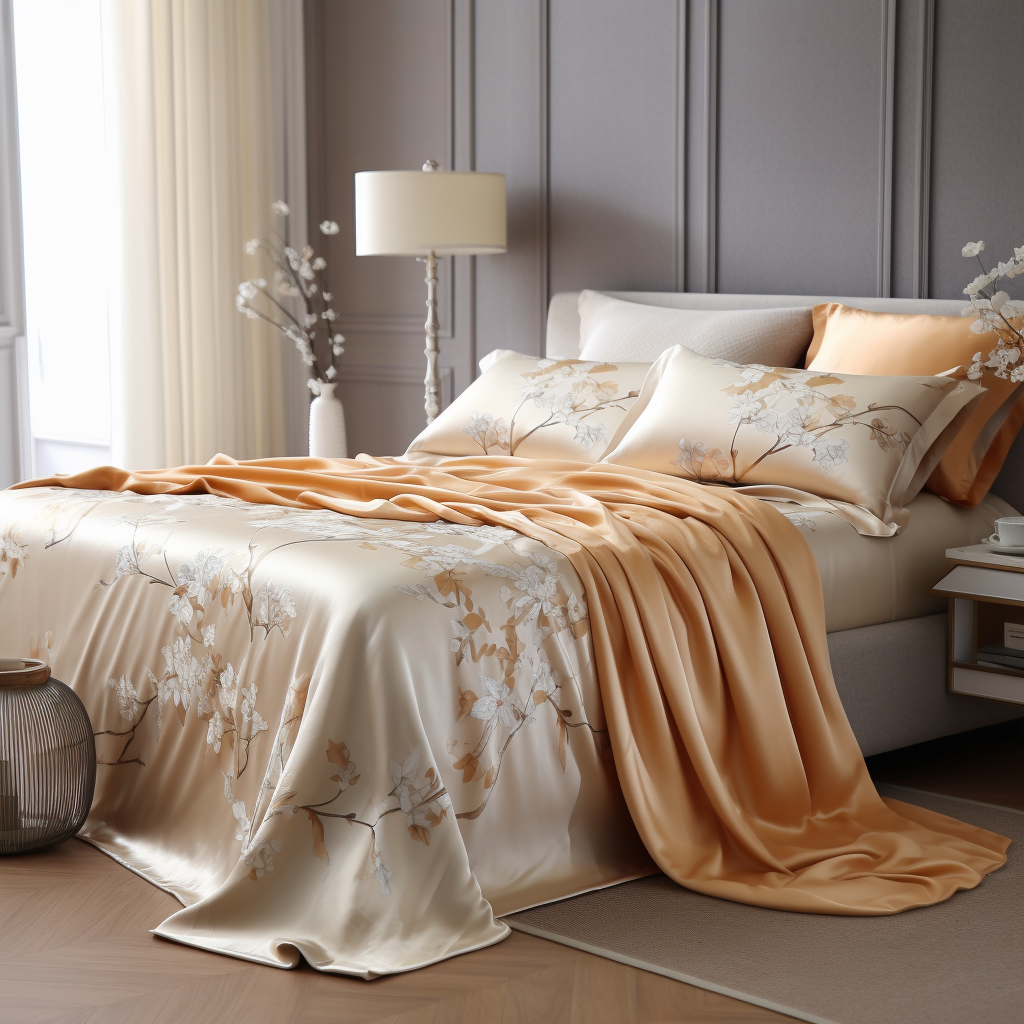 Considerations for Allergy Sufferers
For individuals with allergies or sensitive skin, choosing the right bed sheet material is crucial to ensure a comfortable and irritation-free sleep environment. Here are some considerations:
Hypoallergenic Materials: Look for materials that are naturally hypoallergenic, such as silk, linen, or bamboo. These materials resist common allergens like dust mites, mold, and mildew.
Certifications: Certifications like OEKO-TEX or GOTS indicate that the sheets are produced without harmful substances, which can be reassuring for those with sensitivities.
Tightly Woven Fabrics: Fabrics with a tight weave, such as microfiber or high thread count cotton, can act as a barrier to allergens.
Washability: Being able to wash your sheets frequently and at high temperatures can help keep allergens at bay. Choose materials that can withstand regular washing without deteriorating.
Avoiding Irritants: If you're sensitive to chemicals, opt for organic or untreated materials, and avoid sheets with wrinkle-resistant or anti-stain treatments as they may contain irritating chemicals.
Thread Count and Why It Matters
Thread count is a term that often comes up when discussing the quality and comfort of bed sheets. It refers to the number of threads, both vertical and horizontal, found in one square inch of fabric. Here's why it matters:
Softness: Generally, a higher thread count can result in a softer feel. The close weave of high-thread-count sheets creates a smooth surface that's gentle to the touch.
Durability: A higher thread count also often signifies better durability. More threads can result in a stronger fabric that withstands wear and tear over time.
Breathability: However, an extremely high thread count could potentially reduce the breathability of the sheets, as the tightly woven fabric may trap heat.
Misconceptions: It's a common misconception that thread count is the sole indicator of quality. While it's a factor, the type of fiber and the weave are equally, if not more, important.
Optimal Range: Experts often suggest a thread count between 200 to 600 for a good balance of softness, durability, and breathability. Beyond this range, the benefits may plateau, and the sheets could even become less breathable.
Environmental and Ethical Considerations
In recent years, the environmental and ethical implications of our purchasing decisions have come into sharper focus. Here are some considerations when shopping for bed sheets:
Organic Materials: Opting for organic cotton or linen can be a more eco-friendly choice as these materials are grown without the use of synthetic pesticides or fertilizers.
Sustainable Production: Look for brands that prioritize sustainable farming and manufacturing practices. Certifications like Fair Trade or GOTS can provide insight into a brand's commitment to ethical and environmental standards.
Biodegradable Materials: Natural fibers like cotton, linen, and bamboo are biodegradable, meaning they will break down naturally at the end of their lifespan, reducing waste in landfills.
Recycled Materials: Some brands offer sheets made from recycled materials, which can be a more sustainable option by reducing the demand for new resources.
Transparency: Brands that offer transparency in their sourcing and manufacturing processes allow you to make an informed decision about the environmental and ethical impact of your purchase.
Local Production: Purchasing sheets produced locally can reduce transportation emissions and support local economies.
Conclusion
Investing time in understanding the different types of bed sheets and materials available is a step towards enhancing your sleep quality and creating a cozy refuge. Each material, whether it's the classic cotton, luxurious silk, eco-friendly bamboo, or a practical blend, brings a unique set of benefits and characteristics to the table.
Beyond personal comfort, your choice of bed sheets can also reflect your values, whether they lean towards eco-friendliness, ethical production, or hypoallergenic properties. By considering factors such as the fabric type, thread count, certifications, and care instructions, you can find the perfect set of sheets that align with your comfort preferences and ethical values.
In a market saturated with options, being informed about the different materials and their implications is empowering. It enables you to sift through the plethora of choices and select bed sheets that will not only elevate your sleep experience but also resonate with your lifestyle and values.
Your bedding is not just a trivial aspect of home decor, but a significant contributor to your overall well-being. Make a thoughtful choice, and enjoy the comforting embrace of your bed after a long day.